Making a telemedicine appointment
If you are a medical practitioner or medical student working in the Northern Territory you can access this service with the initial consult for *free*. To make an appointment contact us through email or clinic telephone:
Email: reception@doctorshealthsa.com.au or telephone the DHSA Clinic on 8232 1250 (IH)
If your require urgent assistance phone our 24/7 Urgent Advice Line - 8366 0250 or view other crisis support services here.
Our team of telemedicine doctors are:
DR MICHAEL BECKOFF
MBBS (Adel) FACRRM FAICD
Dr Mike Beckoff is a procedural rural generalist currently working as a locum in rural and remote areas of Australia and has been doing so since 2011.
He graduated from the University of Adelaide in 1974 and practised rural general practice, emergency medicine, GP surgery and GP advanced obstetrics at Bridge Clinic from 1977 until 2010, since which time he has been working as a rural and remote locum across Australia. He has been Chair of the Murray Mallee GP Network and Chair of General Practice SA since 2005.
His current positions include, Board Director HealthDirect, Board Director ACRRM [Australian College of Rural and Remote Medicine] Board Chair RDWA [Rural Doctor's Workforce Agency]; Clinical Standards Committee ACSQHC [Australian Commission on Safety and Quality in Healthcare]; SA MET Committee; SA Health Clinical Senate; SA Health College Chairs Committee; Clinical Adviser [Mental Health] CHSA LHN [Country Health SA Local Hospital Network]; Chair SA Health Statewide Steering Committee for Mental Health Shared Care and SA Country PHN Clinical Governance Council.
Dr Beckoff has a strong interest in the health of doctors and especially those from a rural and IMG background.
DR JILL BENSON
MBBS, DCH, FACPsychMed, MPH, FACRRM
Dr. Jill Benson has been a GP for over 30 years. She currently works as a GP in a private clinic, in three remote Aboriginal communities in the western desert, in the clinic at Doctors Health SA, as a researcher in the Discipline of General Practice at the University of Adelaide, and as a Medical Educator at GPEx, the South Australian GP Training Organisation. She has just completed her PhD in refugee health.
DR HEMA SHANKAR (Dr Shankar is currently on leave until May 2021)
FRACGP BMBS(Flinders)
Dr Hema Shankar has been practising medicine in a variety of settings – urban, rural and remote, hospitals and private practice and out in the field with MSF since graduating from Flinders University in 2002. Her breadth of experience includes ICU, ED, ophthalmology, dermatology and Indigenous health. She has worked with the displaced Rohingya population in Bangladesh and with disadvantaged Indigenous communities in the Northern Territory, Queensland and WA. Since completing her fellowship in General Practice in 2012, she has worked in rural and remote locations all over Australia, often as a solo practitioner. Having been involved in the education, training and supervision of medical students, junior doctors and IMGs, she understands the challenges that face doctors in the rapidly evolving field of medical practice and service delivery. In her role with Doctors' Health SA she provides peer support to her colleagues enabling them to look after their health and well-being and enjoy productive and fulfilling careers in medicine.
DR ROGER SEXTON
MBBS DRCOG(UK) FAICD MBA(Adel) FRACGP FACRRM
Dr Roger Sexton has been a full-time procedural rural GP in Mt Pleasant for 30 years and now works as a rural GP locum across SA. He is a clinical skills tutor at Adelaide University. He has been a past presiding Member of the Medical Board of SA, a past member of the PBAC, the Federal AMA Council of General Practice. He has been a board director of MIGA since 2012 and sits in its Claims Committee and Risk Management Committees. He is a board director of NPS MedicineWise and the newly formed national Doctors Health Services Pty Ltd. He is the inaugural Medical Director of the DHSA program. He has a strong interest in music and the arts.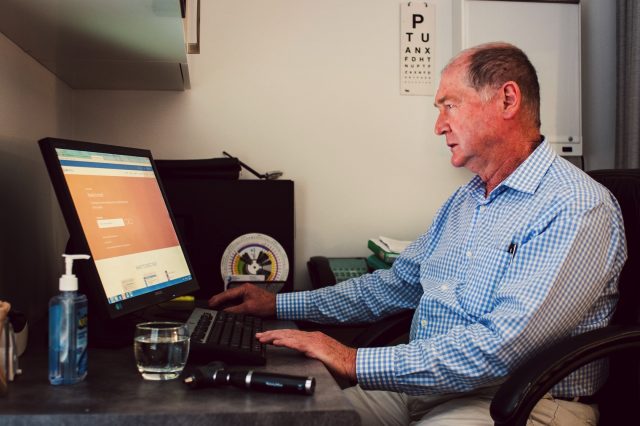 What is offered
An initial assessment service linking with the doctor working in the Northern Territory to one of a team of experienced GPs via a telemedicine platform to discuss their health concerns and future risks discuss arrangements for face-to –face follow up.
It is not intended to be an ongoing substitute for a face-to-face consultation. For further information please contact Doctors' Health SA/NT Medical Director, Dr Roger Sexton on 0408 089 423.